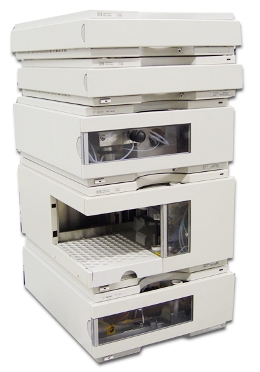 From time to time, we all face problems with HPLC instruments. Then, we all search the internet for the solution for our problem. In this troubleshooting section I would like to point out my problems with instruments and their solutions. Hopefully, it can help also you.
Recently, I was asked to run the HPLC-MS instrument which was off for several months. The LC part was Agilent 1100 and MS was from the Bruker (HCT+). The instruments themselves worked fine, but there was a problem with their connection. At least I thought so. The Agilent HPLC went always to power off mode after couple of minutes. No matter what I have done, no matter what I have tried. It always went to shutdown mode.
As I said, I thought the problem is in their internal (software) connection. The Bruker HyStar software was started by the ChemStation. Because of this I have contacted Bruker company and asked them about the problem. I will speak about the webex communication sometimes in the future, but I have to say it was a nice and new experience. The guy from the Bruker told me, that there is no problem with the connection at all. Therefore I have continued to ask – Agilent this time.
They told me, that the problem I am describing can be caused by the instrument degasser. After the long time, when the instrument is not used at all, the degasser can be broken. It is still working, still degassing the mobile phase, but it can send the wrong input to the instrument and switch it off.
So, if you have a problem with the Agilent instrument (1100) which is going to the power off mode without any reason, check the connection on the back of the instrument. If there is a line between the degasser and the main unit of the instrument (usually pump, but can be autosampler too) than disconnect this line. It is probably different type of connection than the LAN type. [UPDATE 2015/07/30 – see Steven's comment down the page].
It is probable, that the (autosampler) control light will go red after while. But as soon it can not comunicate with the instrument, it cant tell that something is wrong. And you have still a lot of time to contact the company service to solve the problem with the degasser. Alternatively, you can ultrasonicate the mobile phase or degass it with the stream of helium.